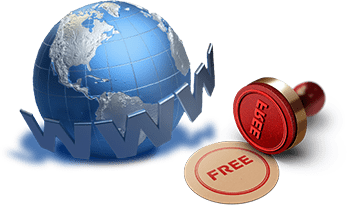 Get Free Shared Web Hosting
for your website with PHP and MySQL
The best free website Hosting without ad
We are ready to provide one of the shared hosting plans for free. Our clients can choose several locations for hosting sites - free hosting in Ukraine or Europe. Reliable Data Centers and high-speed SSD drives make your site fast more than ever. Free hosting, like shared web-hosting, supports up to date PHP versions, including 7 and MySQL databases. We provide FTP access to our clients. You can host a small website or big projects using the latest technologies like Python, Django, Ruby on Rails and etc.
Free web hosting with PHP, MySQL, email and ftp access
You will get all advantages of the paid plans:

You can get FTP access after registration and SSH access SSH after the request to tech support

Around the clock tech support work for you, to provide non-stop high-quality service , we work without holidays and weekends. We answer all your questions in the chart, ticket or over the phone.

High-speed SSD drives and great Data Centre location will make your site as quick as possible

You should not have any worries about the migration. HyperHost experts move your website to our servers for free and with high-quality!
Host you html site, blog or forum using Wordpress, Joomla or Drupal
You can place different websites on our server, like blogs, forums. Free web hosting can be used for landing, one-page sites, online stores, educational sites (universities, schools, and kindergartens), government agencies and structures (city and village councils), charitable organizations. The service can be used to place sites without ads on high-quality and fast free hosting in Ukraine. Our servers are optimized for all popular CMS systems Wordpress, Joomla, Drupal and many others. Also, the CMS are pre-installed in control panel, which makes quick and easy integration.
Regardless of CMS (Wordpress, Drupal, Joomla), free hosting will provide all the benefits:
maximum page loading speed;

clear and simple control panel;

99.9% availability.
Free hosting for forums, for blogs on Wordpress, with support PHP and MYSQL provide features and quality that paid services. You won't feel the difference using the free web hosting for your site. After ordering the service, you will receive free domain and hosting, no need separately register a domain for a future site.

Each client of free hosting is provided with access to a free FTP server hosting, where you can upload files and documents for the site. Best free hosting and domain easy to manage. The user is not must have advanced knowledge of server management. To use free hosting you only need to know basic principles of working with the control panel.
Frequently Asked Questions:
Is it possible to upload PHP files or just HTML?

---

You can upload PHP and other types of files for your site.
Can I create my own MYSQL databases?

---

You will be able to create MYSQL databases yourself, PHPMYADMIN will be available for database management.
Will I get FTP, SSH access to free download
hosting files?

---

Yes, after order, we will provide you with FTP, SSH access, so that you can upload the necessary files to the server.
Does shared hosting support SSL?

---

Of course, you will be able to manage the Lets Encrypt certificate yourself, which is released automatically. You will have full access to configuration, you can create, reissue, delete SSL certificates.
Will my site work badly on free hosting?

---

No, free hosting is placed on paid hosting servers and has a sufficient level of resources for a fast website loading speed.