Hosting for HostCMS

HyperHost plans fit for all popular CMS. So you can easily create and edit your own web project. Our servers are already configured and optimized for any CMS, that allows to speed up the page load. On our hosting, you can easily set the desired engine for your website managing. HyperHost servers tested and adapted for use with HostCMS.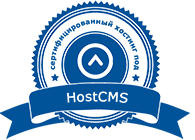 HostCMS - is an easy, user-friendly and fast engine for website managing. The engine shows good results work on a virtual server. Content management system has a simple interface. HostCMS makes a website promotion easier because there is an option to create meta tags for any page (title, description, keywords). HostCMS is an option to create different websites on the different domains and manage it from one standard control panel.
Promotion:
Our promo allows you to test HostCMS for free on a 30 days.
Promo-code:
hostcms_test
Click to copy
The information was copied
The benefits of CMS hosting from HyperHost
Free tech support
Our tech support will help you with CMS installation and configuration
The servers are optimized
You`ll get the best as possible performance of your website on our high-speed servers
Frequently Asked Questions:
⭐ Which CMS are the most popular?

📌 How to order hosting for HostCMS

---

Follow the link, choose the suitable hosting plan, and click Order. Then you will be taken to the basket where you can choose the currency, payment method, and payment period.
👆 Does one-click HostCMS setup available?

---

There is a Softaculus plugin in the hosting control panel. It can install most of CMS in a few clicks. It's really easy.

📥 Can you help me with HostCMS site transfer?

---

Our technical support will help you with HostCMS site transfer for FREE.
Just contact tech. support [email protected], provide all the files, and login and password to the previous hosting. We will transfer your site and check its work on our hosting.